Find the Best Floating Docks for Sale for Your Waterfront
By His Hands is a licensed and bonded company operated by a highly skilled and experienced contractor, specializing in designing and installing floating docks on residential waterfronts.
Get Free Consultation
A skilled contractor specializing in home improvements knows that you want to make the most of your waterfront home. And the best solution to make the body of water bordering your home accessible is to install floating docks.
Floating docks systems are easy to configure and install at the best place so you can moor a boat, install sun tanning lounges, or add steps to go into the water and swim. The contractor will look at the photographs of your property and help you select the best model of floating decks, incorporating the features you want to have.
The Key Benefits of Floating Docks
You may consider the option of building a permanent dock, but this is a very expensive home improvement project. Also, you may want to restore your waterfront to the original state at some point. Thus, floating personal watercraft docks are the recommended solution because:
They can be easily installed and removed
They have a modular structure, easy to customize according to your preferences
Residential floating docks rise and fall with the tide, so they do not get flooded at high tide
They have an affordable cost, compared to permanent docks
At the same time, floating docks are an excellent idea if you are living in an area with choppy waters. The movement of the docks will not stain the mooring rope of your watercraft, avoiding the risk of it getting detached and floating away.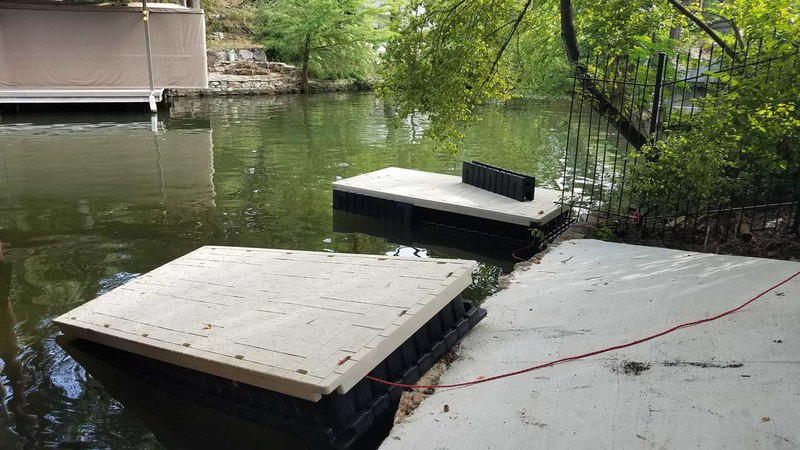 How to Know That Floating Docks Systems Are the Right Choice
You may need to consider residential floating docks if the zoning laws in your area prohibit you from building traditional docks with a piling foundation. Also, this is the ideal solution if the shoreline is irregular and you cannot access the body of water for a swim safely and comfortably.
However, the most important reason why you may consider floating docks is the opportunity to keep a light watercraft safely moored and take it for a drive whenever you want.
Hire an Experienced Floating Docks Contractor!
By His Hands is a company owned and operated by a home improvements contractor with over 40 years of experience. The company is fully bonded and insured and offers floating boat docks for sale to customers in:
Austin Metroplex
Marble Falls
Georgetown
Call us now: 512-797-0612!
Services I'm Offering
Maintaining your home and handling minor to major issues such as window replacement, patio covers installation, repair floors, or improving the exterior of your home, can be hard. By His Hands, LLC provides you with highly professional handyman services at affordable prices.
Outdoor and Indoor Shades

Outdoor and indoor shades play an important role in creating the overall aesthetics of a home. By His Hands, LLC understands the need of having outdoor and indoor shades to uplift the overall look of your home.

Sunsetter Retractable Awnings

You can enjoy more time with your friends and family at the patio or deck with high-quality retractable awnings installed. By His Hands, LLC provides you with a free consultation to ask for your awning requirements.
Let's Create Something Together!
Contact By His Hands LLC and I will take care of you
30.293490
-97.704008
30.635324
-97.677717
30.575900
-97.854572
30.578002
-98.257653
30.543575
-98.368600
Austin

Georgetown

Leander

Marble Falls

Horseshoe Bay