Reliable Patio Contractors for Your Home Remodeling Project
More and more homeowners and buyers are seeing the value of outdoor patios. Let By His Hands, LLC handle your patio project and benefit from more than four decades of experience.
Get Free Consultation
If your upcoming home improvements include the addition or remodeling of a patio, you need to hire highly skilled local patio contractors. Patios are becoming more and more popular among homeowners since they can increase curb appeal and boost your family's quality of life. By His Hands, LLC can provide unmatched workmanship and service if you're looking for top-notch patio contractors.
Benefits of Installing or Remodeling A Patio
There are several benefits to having a modern patio. By hiring outdoor patio contractors, you can:
Increase the value of your home. If you plan to sell your house sometime in the near future, you'll be happy to know that adding or remodeling a patio can help you to sell it for more. As local patio builders will tell you, buyers love when they get an outdoor entertainment space.
Get an even larger living area. When everyone is at home, it can get a little cramped inside, especially if you have a large family. Adding an outdoor patio can make your home seem larger and if you outfit it with couches and other decor, it can be a great place to hang out.
Entertain relatives and friends. If you have a small home, it can be difficult to accommodate even close relatives. By getting patio contractors to build a porch onto your house, you'll be in a better position to host gatherings.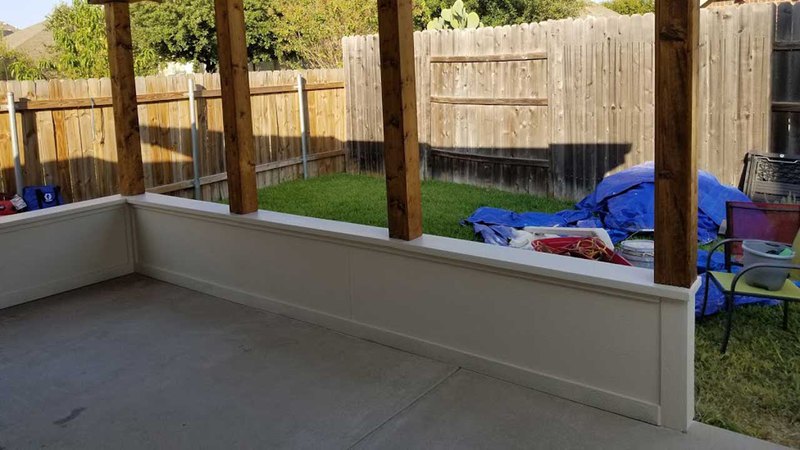 Things to Consider When Getting a Patio
You need to plan your project carefully. Some of the things that you need to think about when building a patio include:
The primary purpose of the patio
The size of your budget
Where you want the patio built
The materials you want to use
Your style preferences
Choose By His Hands As Your Local Patio Contractors
Given the various benefits of adding a patio to your home, it's not surprising that so many homeowners want them and so many buyers are looking for them. If you want the best local patio contractors to handle your project, contact By His Hands, LLC. The company is insured and bonded and offers manufacturer warranties on every job. By His Hands has locations in:
Austin Metroplex
Marble Falls
Georgetown
Request a free quote from our patio installers today!
Services I'm Offering
Maintaining your home and handling minor to major issues such as window replacement, patio covers installation, repair floors, or improving the exterior of your home, can be hard. By His Hands, LLC provides you with highly professional handyman services at affordable prices.
Outdoor and Indoor Shades

Outdoor and indoor shades play an important role in creating the overall aesthetics of a home. By His Hands, LLC understands the need of having outdoor and indoor shades to uplift the overall look of your home.

Sunsetter Retractable Awnings

You can enjoy more time with your friends and family at the patio or deck with high-quality retractable awnings installed. By His Hands, LLC provides you with a free consultation to ask for your awning requirements.
Let's Create Something Together!
Contact By His Hands LLC and I will take care of you
30.293490
-97.704008
30.635324
-97.677717
30.575900
-97.854572
30.578002
-98.257653
30.543575
-98.368600
Austin

Georgetown

Leander

Marble Falls

Horseshoe Bay