Keep the Draft Out – Call and Awning Repair Contractor!
By His Hands is owned and operated by an experienced home improvement contractor. The company specializes in window treatments including awning repair and maintenance.
Get Free Consultation
Retractable awnings have been around for decades and are extremely popular. Not only do they provide lots of shade, but you can enjoy fresh air in the room even during rain since the overhang prevents water from coming inside.
Awning windows are also well-liked by homeowners. These windows open outward from the bottom and have hinges at the top, providing both ventilation and rain protection. Unfortunately, this method of operation can damage the hinges over time and you may need to call an awning repair specialist.
Given the difference in construction and operation, awning window repair cannot be performed by DIY enthusiasts. The mechanism of a retractable awning consists of:
The hinge (operator) arm located on the bottom side of the window
The operator handle, installed at the base of the window
The locking handle
Hinges
Weatherstripping – a type of gasket that lines the interior of the window to increase its energy efficiency.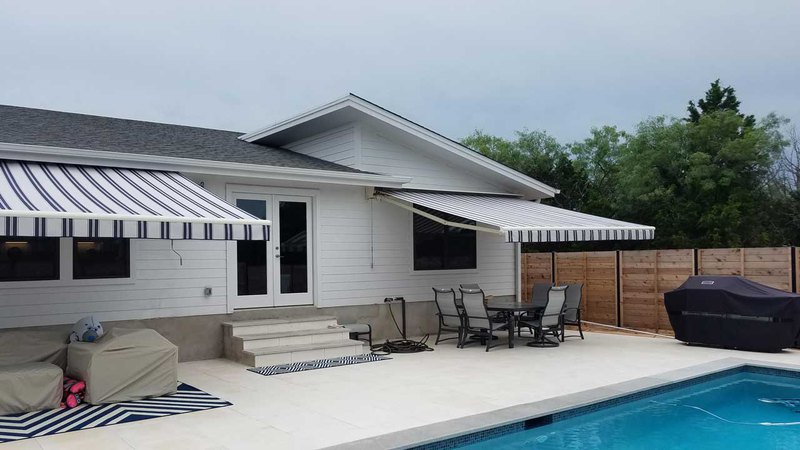 Signs that You Need Awning Window Repair
Awning windows are more subject to wear and tear than regular windows. The complex mechanism of hinges, operator arm, and operator handle has several moving parts that can loosen or become misaligned. An awning repair company sends trained technicians to identify the problem and solve it.
As a homeowner with awning windows, these are some of the issues that call for awning repair services:
The window is drafty – this means that the weatherstripping is damaged
The window won't stay up – the operator arm may have become loose
The locking handle needs extra strength to lock in position.
Reasons Not to Attempt DIY Awning Repair
Without experience and knowledge of awning window mechanisms, you could do more damage than good. The parts of the locking handle and operator arm are assembled with precision, and they require the same precision in repairing or replacing them.
Licensed awning window repair specialists can easily fix your problem in a short time and will also offer a warranty for their workmanship.
Hire an Experienced Awning Repair Company
By His Hands is a professional home improvement contractor specializing in awning repair for customers in:
Austin Metroplex
Marble Falls
Georgetown.
The company's experience in awning window repair is only exceeded by its dedication to excellent service. Contact the team today!
Services I'm Offering
Maintaining your home and handling minor to major issues such as window replacement, patio covers installation, repair floors, or improving the exterior of your home, can be hard. By His Hands, LLC provides you with highly professional handyman services at affordable prices.
Outdoor and Indoor Shades

Outdoor and indoor shades play an important role in creating the overall aesthetics of a home. By His Hands, LLC understands the need of having outdoor and indoor shades to uplift the overall look of your home.

Sunsetter Retractable Awnings

You can enjoy more time with your friends and family at the patio or deck with high-quality retractable awnings installed. By His Hands, LLC provides you with a free consultation to ask for your awning requirements.
Let's Create Something Together!
Contact By His Hands LLC and I will take care of you
30.293490
-97.704008
30.635324
-97.677717
30.575900
-97.854572
30.578002
-98.257653
30.543575
-98.368600
Austin

Georgetown

Leander

Marble Falls

Horseshoe Bay