Get Your Choice of Awning Fabric Replacement from By His Hands, LLC
Awning fabrics protect your outdoor furniture from any harm. But from time to time, they are prone to damage and need replacing as well. With By His Hands, LLC, get your old awning fabric replaced for better.
Get Free Consultation
Does your awning fabric not match with your current surroundings? Is your outdoor awning fabric not satisfactory? Heavy storms, prolonged rainfall, or just plain time - a lot of factors can deter your awning fabric. Retractable awnings ask for fewer fabric replacements than non-retractable ones. Nevertheless, a lot of occasions can call for an awning fabric replacement.
What Do You Need To Know About Awning Fabric Replacement?
The outward look of your house or business is the first thing anyone would notice. Awnings can glorify or ruin that. With years of experience, By His Hands, LLC has handled innumerable replacements.
If you need an awning fabric replacement, here is what you need to consider:
The fabric. Does your replacement plan include the same or a change in the design? You'll get quality and a wide range of fabrics to choose from with By His Hands, LLC. Choose your fabric wisely, especially in areas with harsh weather.
Measurement. It is better to take measurements for your replacement awning fabric after getting rid of the old material. Measure the length, width, and height of the valance and add a few inches for the hemming and the roller.
Getting rid of the old fabric. Cutting the fabric with a hot knife secures the edge seal. If anything goes wrong with the cutting, the replacement fabric will disappoint you. It's better to consult experts if you need your outdoor awning fabric to be replaced.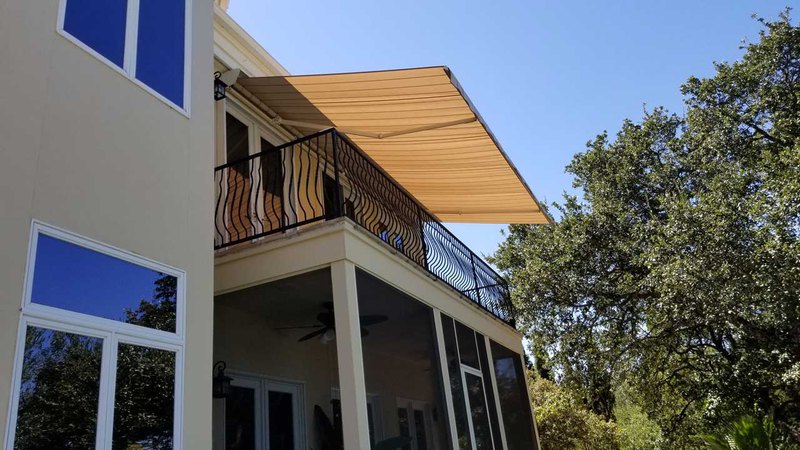 Signs That You Need Awning Fabric Replacement
Many of us are not a fan when it comes to replacements and repairs. However, your old fabric will not last forever, and here's how you know it's time for your awning fabric replacement:
Does your old fabric look worn out, stained, faded? That is not the look you need.
Is it damaged due to some external factor? Maybe a storm or an accident. Your outdoor awning fabric is asking for a replacement.
Moisture might cause heavy mold or mildew to grow on your fabric.
If it has been a while, what better reason do you need? Get a new stunning look to go with your outdoors.
Contact Today!
By His Hands, LLC services a range of areas near you, including:
Austin Metroplex
Marble Falls
Georgetown
Contact By His Hands, LLC today to learn more about awning fabric replacement!
My Other Services
Yes, I want to receive a newsletter once a month with information about discounts and promotions, as well as news, interesting articles and recipes.
Outdoor and Indoor Shades

Outdoor and indoor shades play an important role in creating the overall aesthetics of a home. By His Hands, LLC understands the need of having outdoor and indoor shades to uplift the overall look of your home.

Sunsetter Retractable Awnings

You can enjoy more time with your friends and family at the patio or deck with high-quality retractable awnings installed. By His Hands, LLC provides you with a free consultation to ask for your awning requirements.
Let's Create Something Together!
Contact By His Hands LLC and I will take care of you
30.293490
-97.704008
30.635324
-97.677717
30.575900
-97.854572
30.578002
-98.257653
30.543575
-98.368600
Austin

Georgetown

Leander

Marble Falls

Horseshoe Bay